If I were a book, I would be A Prayer for Owen Meany, by John Irving.

We're taking a chapter a week, posted on Sunday mornings. Click for the posts on Chapter One, Chapter Two, Chapter Three, Chapter Four, Chapter Five, Chapter Six, Chapter Seven and Chapter Eight.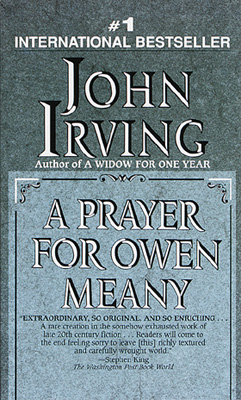 So. We can see how John, if not mentally unstable, certainly comes by his issues honestly.
He is physically disfigured, although he certainly seems pragmatic about that. The missing finger doesn't appear to pose much of an inconvenience to him in his present-day life; indeed, he seems to enjoy it some of the time, pointing at things and sticking it up his nose.
When he defends his "nasty habit" of tamping his pipe with the stump of his finger, saying
"And why not? My finger is a perfect fit; we handicapped people must learn to make the best of our mutilations and disfigurements,"
I don't believe that he is calling himself mutilated or disfigured at all, but rather wryly acknowledging how insignificant his "handicap" in fact is, compared to the suffering and true mutilation he has seen Owen and others undergo.
I think his virginity is much more significant a "scar" than the missing finger.
"What has happened to me has simply
neutered
me. I just don't feel like 'practicing.'"
I'm not sure, though,
why
he has been "neutered" by his experiences. Anyone have a theory?
His anger, on the other hand, is perfectly understandable. He describes his consumption of news--particularly, newspapers reporting on American politics--as nothing short of an addiction. The news obsesses him, it enrages him, it affects with his relationships, and it sometimes threatens to interfere with his teaching.
On the one hand, you'd like for him to be able to let go of the anger, the visceral reaction to the politics that even moving to Canada did not permit him to leave behind.
On the other hand, who can blame him? The political reality, both in 1987 and today,
is
intolerable. And John has seen just how tragic the results of
"society's commonplace blend of the murderous and the trivial"
can be.
---
And what of Owen?
I actually can't figure out what to say about Owen right now, so I'll leave it to you.