So as we have established, if I were a book I would be A Prayer for Owen Meany, by John Irving.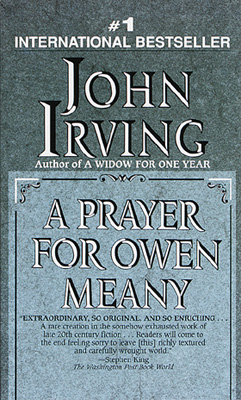 I've read the book before, and it is even part of my small permanent collection, so I have
invited
all comers to join me in reading or rereading it now.
Watch for themes of faith vs doubt, and of fate and preparing for one's destiny.
We'll take a chapter a week, starting...now.
I've read the book probably twice before, but it's been many years and, while I did remember the basic plot and the importance of sports in the book,* I had forgotten about all the comparative religion and town history, especially right in the first chapter there. I was a little concerned when it dived right in to the Old and New Testaments and the Book of Common Prayer, but then they lifted up Owen and everything was okay.
And of course I quickly remembered how well written it is.
From the blog
Wondering Mind
:
In Owen Meany John Irving has created an amazing narrative structure that slips effortlessly between three separate time periods, makes repeated references to previous descriptions to keep them alive in the reader's mind (lending itself well to one continual read or to a disjointed read over several weeks - which is often the case with me). Symbolism is rife and the outcome of the denouement proves just how strong Irving is in honing a broad story filled not only with a plethora of engaging characters, but also a long and deep history for each - Irving isn't one to go jumping into writing a story until after many months of thought and preparation.
(Full blog entry
here
.)
So how about you? Are you reading for the first time, or rereading? You like? Thoughts so far?
*You listening, pidomon? It's about sports! I'll give you a pass while you're out of town, but I hope you come play with us when you get back.
---
For today, we'll just use the regular Blogger comment system, which will be fine for drive-by comments or dialogs that take place over the course of one or more days.
If it turns out that there are two or more people online at the same time wanting to engage in an actual real-time conversation, I can try to find an interface more suited to that for next week. For the time being, you'll need to reload the comment box manually to see if there are any replies.
That is, if anybody plays :)
---