If I were a book, I would be A Prayer for Owen Meany, by John Irving.

We're taking a chapter a week, posted on Sunday mornings. Click for the posts on Chapter One, Chapter Two, Chapter Three, Chapter Four and Chapter Five.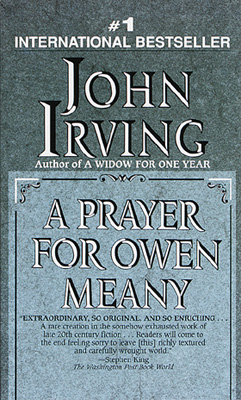 First of all, thanks to those who commented last week about my thoughts on the female characters.
I was especially intrigued by Deborah's observation that Mary Beth Baird and Barb Wiggin represented the classic virgin/whore dichotomy. That makes a lot of sense, and it makes me feel better about why those two characters were portrayed the way they were.
Certainly Irving is not unaware of issues such as gender roles and the impact they have on us. Observe, here in Chapter 6, the puzzlement with which John recognizes that his male cousins were sent to Gravesend Academy in part because of its "power to rescue those two daredevils from the standard fates of rural, north country boys" by virtue of its being a "good school" that would assault with "a host of new demands, of impossible standards," tiring them out, numbing them, civilizing them.
And yet, "Why my Aunt Martha and Uncle Alfred were less concerned with civilizing Hester remains a mystery to me."
So I feel better about all of that.
---
Moving on, this part appealed to me; not Owen's complaint about the movie
The Robe
, but John's observation about it:
"WHAT A BIG FUSS ABOUT A BLANKET!" Owen said. "THAT'S SO CATHOLIC," he added--"TO GET VERY RELIGIOUS ABOUT OBJECTS."

This was a theme of Owen's--the Catholics and their adoration of OBJECTS. Yet Owen's habit of collecting objects that he made (in his own way) RELIGIOUS was well known: I had only to remember my armadillo's claws.
I don't suppose everyone does that, but I think a lot of us do. A particular object becomes a talisman, representing a person, an event, a time, or even a state of mind or aspect of ourselves that we want to hold on to or focus on, or return to.
Perhaps similarly, I was drawn to Owen's objection to
The Ten Commandments
:
"YOU CAN'T TAKE A MIRACLE AND JUST SHOW IT!" he said indignantly. "YOU CAN'T PROVE A MIRACLE--YOU JUST HAVE TO BELIEVE IT! IF THE RED SEA ACTUALLY PARTED, IT DIDN'T LOOK LIKE THAT," he said. "IT DIDN'T LOOK LIKE ANYTHING--IT'S NOT A PICTURE ANYONE CAN EVEN IMAGINE!"
And this, in turn, seems almost related to John's observation early in the chapter about his grandmother's objection to televisions in retirement homes:
...what Harriet Wheelwright always observed always confirmed her opinions.
Most of us hold our beliefs, especially political or religious ones, strongly. We see confirmation for them in situations or events that may not hold the same meaning for other people.
Our talismans, our miracles, our beliefs; they are all personal things. They don't look the same through others' eyes.
---
There were a few other things that caught my eye:
John being admonished, again, for his lack of Canadianness -
"...the same, critical message that Canon Mackie delivers to me, without cease. In short: You've been with us for twenty years; when are you going to take an interest in us?"

Again...I have lived in Costa Rica for close to that long. And I am similarly not focused on Costa Rican politics and times. I never have been. This is where I live, but I am not
of
here.
---
This chapter is, of course, just packed with parallels between the United States' past and present actions. Here's one.
...are they all the same--these presidential candidates and evangelicals who are caught with their pants down? Mr. Reagan has been caught with his pants down, too--but the American people reserve their moral condemnation for sexual misconduct. Remember when the country was killing itself in Vietnam, and the folks at home were outraged at the length and cleanliness of the protesters' hair?
Indeed
.
And finally, the new headmaster's administrative style reminds me of
something
...
IT IS SHREWD OF THE NEW HEADMASTER TO MAKE SUCH A POPULAR DECISION--AND WHAT COULD BE MORE POPULAR WIHT STUDENTS THAN ABOLISHING A REQUIREMENT? LATIN, ESPECIALLY! BUT THIS SHOULD HAVE BEEN ACCOMPLISHED BY A VOTE--IN FACULTY MEETING. I'M SURE THAT IF THE HEADMASTER HAD PROPOSED THE CHANGE, THE FACULTY WOULD HAVE ENDORSED IT. THE HEADMASTER HAS A CERTAIN SINGULAR POWER: BUT WAS IT NECESSARY FOR HIM TO DEMONSTRATE HIS POWER SO WHIMSICALLY? HE COULD HAVE ACHIEVED THIS GOAL MORE DEMOCRATICALLY: WAS IT NECESSARY TO SHOW THE FACULTY THAT HE DIDN'T NEED THEIR APPROVAL? AND WAS IT ACTUALLY LEGAL, UNDER OUR CHARTER OR OUR CONSTITUTION, FOR THE HEADMASTER TO CHANGE A GRADUATION REQUIREMENT ALL BY HIMSELF?"