If I were a book, I would be A Prayer for Owen Meany, by John Irving.

We're taking a chapter a week, posted on Sunday mornings. Click for the posts on Chapter One, Chapter Two, Chapter Three, Chapter Four, Chapter Five and Chapter Six.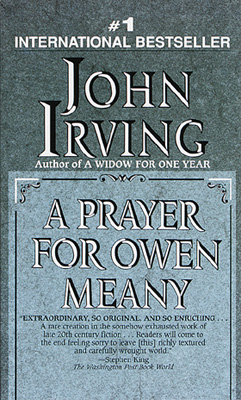 Let's see ... the first thing I marked as I read Chapter 7 was Owen's comment about Hester's drinking:
"Why does she drink so much?" I asked Owen.
"HESTER'S AHEAD OF HER TIME," he said.
"What's that mean?" I asked him. "Do we have a generation of drunks to look forward to?"
"WE HAVE A GENERATION OF PEOPLE WHO ARE ANGRY TO LOOK FORWARD TO," Owen said. "AND MAYBE TWO GENERATIONS OF PEOPLE WHO DON'T GIVE A SHIT," he added.
"How do you know?" I asked him.
"I DON'T KNOW HOW I KNOW," said Owen Meany. "I JUST KNOW THAT I KNOW," he said.
That was on December 31, 1961.
[Distracted briefly by the Wikipedia entry on "
Generations
"]
I was born in 1969, so anything I say about the 60s--or, indeed, the 70s--is based mainly on hearsay. Still, as I understand it, in addition to the whole peace and loooooove thing, there was a lot of anger
and action
aimed at getting the United States out of Vietnam. So I think we can call Owen right about the first generation.
Was that followed by two generations of people who DON'T GIVE A SHIT?
It's hard to say. People do have opinions about ... oh, let's just say ... the current mess of a war the United States shouldn't be involved in. But there aren't massive demonstrations, are there?
And there's certainly
someone
who doesn't give a shit.
[There may be a commercial before the clip]
Transcript:
RADDATZ:
Two-thirds of Americans say it's not worth fighting.
CHENEY:
So?
RADDATZ:
So? You don't care what the American people think?
CHENEY:
No. I think you cannot be blown off course by the fluctuations in the public opinion polls.
---
Oh, look. The next thing I've marked is about Ronald Reagan.
...it doesn't surprise me that the president is "not affected' by the congressional hearings; he hasn't been too "affected" by what the Congress tells him he can and can't do, either. I doubt that these hearings are going to "affect" him very greatly.
[Sigh]
Let's just move on. What else have I marked?
Today, the fact that President Kennedy enjoyed carnal knowledge of Marilyn Monroe and "countless others"--even during his presidency--seems only moderately improper, and even stylish, in comparison to the willful secrecy and deception, and the unlawful policies, so broadly practiced by the entire Reagan administration. The idea of President Reagan getting laid, at all--by anyone!--comes only as welcome and comic relief alongside all his other mischief!
Well, we'll have to forgive John (or, perhaps, Irving) for that one; who could have foreseen the whole Clinton thing, after all? At least that's well in the past, and we've circled back around to a President about whom the above could certainly be said.
What? It's
not
"well in the past" after all?
ABC News
, just this week, felt the need to ...
[Sigh]
Also marked:
"I CAN'T BELIEVE THAT YOUR UPBRINGING AND YOUR EDUCATION HAVE BEEN WASTED ON YOU," he said. "WHY STUDY HISTORY OR LITERATURE--NOT TO MENTION RELIGIOUS KNOWLEDGE AND SCRIPTURE AND ETHICS? WHY NOT DO ANYTHING--IF THE ONLY REASON NOT TO IS NOT TO GET CAUGHT?" he asked. "DO YOU CALL THAT MORALITY? DO YOU CALL THAT RESPONSIBLE? THE PRESIDENT IS ELECTED TO UPHOLD THE CONSTITUTION; TO PUT THAT MORE BROADLY, HE'S CHOSEN TO UPHOLD THE LAW--HE'S NOT GIVEN A LICENSE TO OPERATE ABOVE THE LAW, HE'S SUPPOSED TO BE OUR EXAMPLE!"
and
No, Mrs. Lish--I can answer you now. This was not what we could expect of our future leaders. This was not where our future would lead us; our future would lead us elsewhere--and to leaders who bear little resemblance to Owen Meany.
---
So anyway.
The Volkswagen part was most enjoyable, of course. You could almost see Irving wondering how far he could go with it. How bad could it get, and still be believable?
The faculty can trash the car, certainly. Could he somehow get the headmaster
inside
the car? Could he be
stuck
there? During morning meeting maybe?
It was very well done.