If I were a book, I would be A Prayer for Owen Meany, by John Irving.

We're taking a chapter a week, posted on Sunday mornings. The Chapter One post is here.

Not a lot of folks are playing at this point, but there's still plenty of time to join us.

You guys? This is a very good book.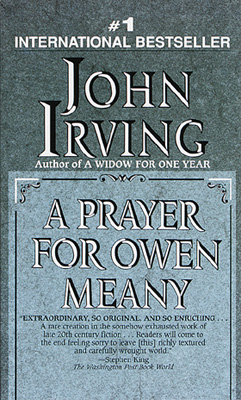 While I remember the basic plot of the book, it turns out that I read it long enough ago that much of the detail is fresh to me on this reading.
I didn't even remember the armadillo.
Also, as tends to happen, the material means things to me at this particular moment that it wouldn't have the last time anyway.
---
I most particularly enjoyed the way that Dan Needham was able to help Johnny see a confusing situation more clearly.
Well--friendship being one thing, and the armadillo quite another--I was so outraged by this discovery that I needed to talk to Dan Needham. As always, Dan made himself available.
Dan didn't just soothe Johnny. He examined Owen's motives, and at the same time tried to help Johnny find an acceptable arrangement for the damaged armadillo.
And so Dan and I became quite emotional, while we struggled to find a way to make the armadillo's appearance acceptable--but that was the point, Dan concluded: there was no way that any or all of this was acceptable.
He saw purpose and meaning in what appeared, on the surface, to be nothing more than destruction and loss.
---
These are some densely packed chapters, and there are plenty of other things to focus on. Which part did you like most?
Tabby's announcement at the dinner table?
The description of the cousins?
Owen's interaction with them?
The flash forward to adolescent Owen commenting on the development of the Vietnam war?
Heh. Now I feel like an English teacher.