If I were a book, I would be A Prayer for Owen Meany, by John Irving.

We're taking a chapter a week, posted on Sunday mornings. Click for the posts on Chapter One, Chapter Two, Chapter Three and Chapter Four.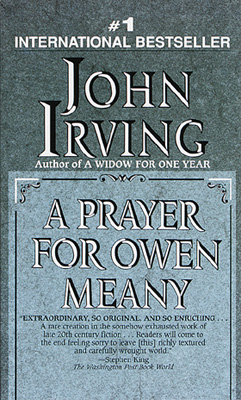 I was, it must be said, fairly uncomfortable with the way that Chapter 5 depicted the foibles of both Mary Beth Baird and Barb Wiggin as so very closely related to their gender, as opposed to their particular personalities.
This was especially evident in the final appearance each of these characters makes in the Pageant story arc.
Mary Beth is sobbing, overwrought, pathetic; making the adult John reflect, unkindly, on the kind of wife and mother she would one day become, and making the 11-year-old John want to hit her.
Barb Wiggin is, to be sure, a thoroughly unlikeable character. Yet it is not at all satisfying to see her "put in her place" by manly Dan, particularly when her reaction, her backing down, is attributed to the "marginal" authority she wielded in her previous employment as a stewardess.
I thought my discomfort with the handling of these two characters would be balanced by the brief foray into the world of the Dowlings, a one-trick pony of a couple whose mission is to challenge sexual stereotypes. But in the end, they were pathetic as well; "small-town world-changers" who were tolerated, joked about, ridiculous. Tedious eccentrics.
I do not, fortunately, take issue with Irving's handling of the other female characters; Mrs. Meany is certainly eccentric, and by no means portrayed in a flattering light, but she is who she is. She is not a caricature of stereotypical female behavior, she's just a female character.
Hester, Grandmother Wheelwright, John's mother; even Lydia and Germaine ... all are characters who happen to be female. They have strengths and weaknesses, and they hold up their parts of the story without falling into tired old stereotypes.
---
I did enjoy John's assessment of the different people who were available to him when he needed to talk (in present-day Toronto).
...the Rev. Mr. Foster offers scant sympathy for my worries, which, he says, are only in my mind. I love that "only"!
And the canon:
He is not exactly condescending, Canon Mackie; he is inexactly condescending.
I think it is a valuable thing, knowing the perspective of the different people you might discuss a situation with. You don't have to agree with someone, nor they with you, for the conversation to be productive, or instructive.
The conversation--well, John's rant--that followed, about Americans and the way they are perceived from abroad was, of course interesting to me as well, having lived outside the United States nearly as long as John, at that point, had.
But what made me laugh out loud a little was the canon's response:
"John, John," Canon Mackie said. "Your anger--that's not very Canadian, either." The canon knows how to get to me; through my anger.

"No, and it's not very Christian, either," I admitted. "I'm sorry."

"Don't be sorry!" the canon said cheerfully. "Try to be a little ... different!" The man's pauses are almost as irritating as his advice.
I have never sought to
be
Costa Rican; I live in Costa Rica, yes, but not because I reject the United States or my identity with it. So while the whole issue of John trying (and, in the canon's view, failing) to be more Canadian was interesting, that wasn't what got my attention. It was the canon's response, and John's reaction to it.
"Don't be sorry!" the canon said cheerfully. "Try to be a little ... different!" The man's pauses are almost as irritating as his advice.
Heh.
I am frequently to be found admonishing people not to be sorry for who they are or what they feel. And, in text, I am most assuredly given to little ... pauses as a means of conveying the rhythm of the words as I hear myself speaking them as I type.